WELCOME TO OUR WEBSITE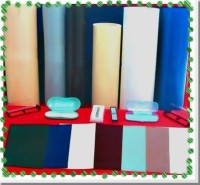 Enhance the value of your packaging application
with our pre-flocked plastic and other materials..

GO4WARD TECHNOLOGY CO., LTD. (PLASTICS DIV.)

Located in Taiwan, we are the professional house providing industrial flocking coating service. Our main task is to undertake flocking process on various materials that customers request.

The pre-flocked HIPS, PVC material of ours is perfect for your vacuum forming purpose which can increase the value of the products you make, such as Jewelry display pads, Gift Boxes, Eye Glass Boxes, Pen Boxes and so on.
The flocking material we provide is consistently thick, impact resistant and the flocking is not affected during the vacuum forming procedure, making our flocking material your ideal choice.

Various of flocking piles are available, like Rayon, Nylon, Acrylic, mixed pile of Rayon and Nylon for your own request to fit your budget.



Besides flocking service, we also act as the purchasing agent of

Non-flocking plastic sheet/film for customers who have such demand.
Copyright 2009. Privacy Policy | Terms of Use |
Design by Free Website Templates
Main Products
Flocked Plastic Material in Roll Form


For Vacuum forming, inner displays, jewelry cases and other packagings.

Flocked HIPS Plastic Sheet
Flocked Rigid PVC Plastic Sheet
Flocked Soft PVC Plastic Sheet
Flocked EVA Plastic Sheet

Non-flocked Plastic Raw Materials:

Stationary and other applications

HIPS Plastic Sheet in roll form
ABS, PET, PP Plastic Sheet
Soft PVC Film in roll form.
PVC Zipper, PVC Label, PVC Sticker

- - - - - - - - - - - - - - - - - - - - - - - - - - - - - - -- - - - - -


Other Flocked Material in Roll From:

Gift Wrapping, florist Packaging and so on.

Flocked Cardboard.
Flocked Stickers in Sheer or Roll form.
Flocked Sponge Leather.
Flocked PP Ribbon.
Glittered EVA.


Latest Products:
Glittered EVA